Welcome to the Kulicke Jewelry School
in Wayne, New Jersey
Learn the Art of Jewelry making
Beginners always welcome IN ALL CLASSES
NO PRIOR EXPERIENCE NEEDED
Monday Evening class 6-9 PM
Sign up for Classes Starting September 13th
7 three hour classes in September-October, $700.
LIMITED BENCH SPACE
Monday 2:30 to 5:30 AND 6-9 PM
TUESDAY - 11 am to 2 pm
READ SUPPLIES PAGE - ARRIVE PREPARED
All students must be vaccinated against Covid-19
and wear a mask in class


Updated August 30, 2021
Scroll down this page to see STUDENT JEWELRY
Time to sign up for Sept-Oct 2021
$700 for 7 three hour classes
Be creative!
Learn the skills to realize your ideas in silver, gold, gemstones and enamel

Jewelry Making classes in Wayne New Jersey, USA
Classes all year
130 Ryerson Ave. Suite 203
Wayne, NJ
Sign up for Fall 2021
7 three hours classes Tuition $700.
Rose Cut diamond surrounded by flush set diamonds. 20k gold ring by Fredricka Kulicke
Classes are small which allows me to tailor my teaching to what each person is here to learn.
If you're not sure, I'm here to introduce you to various techniques and styles all while making silver jewelry to wear along the way.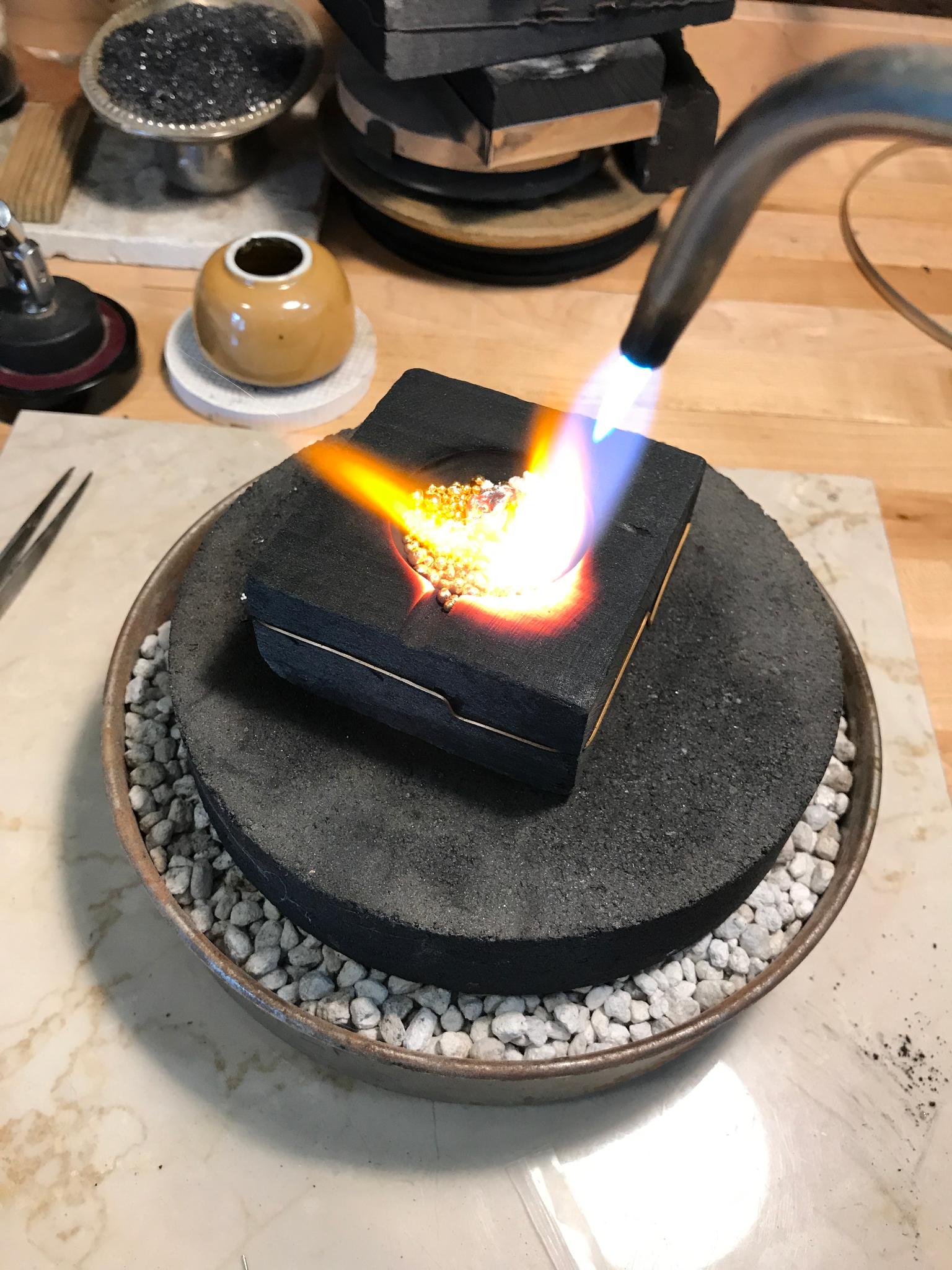 ---
Fredricka Kulicke
I've been making jewelry since my father, Robert Kulicke, started experimenting with cloisonné enamel and granulation when I was a child, around 1960. I was his first apprentice.
He was a fantastic teacher. With infectious enthusiasm, he guiding his students through ancient goldsmithing techniques. Bob was also great fun to be with! His goal was to upgrade and inform modern jewelry with a sense of history. A 5,000 year long history of highly sophisticated styling and skilled technique. Proudly, I continue his work and love sharing my knowledge and skills. Being a goldsmith makes me a better teacher and vice versa. I've gotten to know many wonderful people from all over the world through my school.
Pear Jewel designed by Robert Kulicke executed by Fredricka Kulicke
CONTACT US
---
TEXT 201-230-2973 or email Fredricka
I don't answer phone calls because of telemarketing abuse